I always imagined I'd be recognized as a star in my life, I just never thought it would be so soon!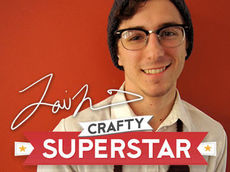 Haha but seriously, I'm extremely flattered to say, I was chosen to be the 99th "
Crafty Superstar
" on the site
Cut Out + Keep
. This week they'll be featuring me and 1 of my patterns everyday for the whole week!
So even if you've seen most or all of these patterns,
check the site out
! It's really cool and even cooler now that I'm one of their superstars!! Haha. (If you can't tell I'm pretty excited)